FLEMISH PAINTING AND DRAWING TECHNIQUES FROM THE AGE OF VAN EYCK
SUMMERCOURSE / WORKSHOP + GUIDED TOUR by JAN BUSTIN
UPDATE: POSSIBLY THERE WILL BE ANOTHER COURSE AT A DIFFERENT LOCATION IN THE FUTURE. PLEASE FEEL FREE TO CONTACT US FOR MORE INFORMATION AND/ OR READ MORE BELOW.  
INTRODUCTION: For centuries, the paintings of Jan van Eyck (1390?– 1441) and his contemporaries have been admired and kept in high esteem.  Even today, despite being used to HD digital images, we are still amazed when seeing them in person.  Van Eyck has long been regarded as the "inventor of oil painting," as if the medium alone explained his realistic depictions of the outside world, the brilliance of his colours and his breathtaking details. Yet oil painting had already been practiced long before Van Eyck. And anyone who has ever tried to paint in the style of the Flemish masters by using modern oil paints and painting methods might have concluded that this cannot be the whole story. And indeed, it probably isn't .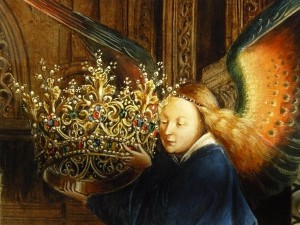 However, Van Eyck's 'secret' may never be found, and resolving this mystery is neither the claim nor the aim of this summer course. Instead it should be regarded as a hands-on study of the style and technique of Van Eyck and other "Flemish Primitives." The intention of this summer course is to offer art historians, other academics, restorers and scientists the opportunity to learn more about technical and material aspects of historical painting techniques in general. At the same time professional artists and advanced amateurs can learn and experience a rational and systematic working method for painting, thus broadening both their painting skills and artistic vocabulary. We will do so using a combination of theory and hands-on experience in order to get a better understanding of the craft behind the artistic concepts.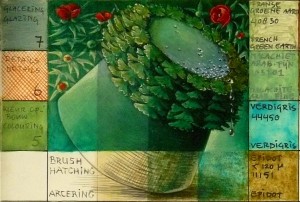 SUMMARY: The work of Van Eyck and other "Flemish Primitives" will be the starting point for our own work. The emphasis will be on several relevant characteristics of their materials and painting methods.  We will be working with more or less authentic materials and applying them in several layers. In the course of 5 days we will be focusing on ground and underdrawing; modelling through tones; building up colours while taking specific properties of certain pigments into account; saturating colours by glazing, and meanwhile adding details between glazes to achieve the final highlights. Our aim is that in the end, participants will be able to complete a small painting on panel either during the course itself or afterwards, on their own.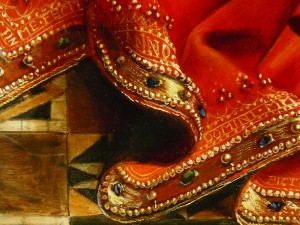 However, this does not mean that we will necessarily be copying or reconstructing an existing original.  Given the time frame of only five days, this might prove too challenging. Instead, we will complete at minimum a 'test panel' to take home. For this, a collage of smaller details or even an abstract design would do. In combination with a syllabus containing specific information about painting materials, techniques, recipes and subsequent steps for the painting process, participants should be able to use this test panel as a reference or guideline in the future. This resource should be valuable for both practicing artists or anyone with a scientific or academic interest in technical art history.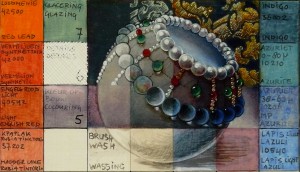 Participants should at least have the willingness to follow a systematic approach but some experience in drawing and painting may also prove to be an advantage. Practical activities will be alternated with lectures on pigments and binding media, painting methods, style and relevant art-historical information. Please bear in mind that there will be some minor preparation required before the workshop begins and possibly some homework to be done in between sessions too. The latter might be necessary in order to prepare for the next steps in the process, but also depends on your own working speed and ambition.
The syllabus will be in English, which will also be the main language throughout the course.  Complementary information can also be given in Dutch or German if needed.
DATES AND LOCATION: The summer course consists of 5 all-day workshops: June 27-July 1, 2016, from 10:00 a.m. until 4:00 p.m. The venue will be most probably at the OPEK-building in the historical city of Leuven (Belgium). On Thursday evening (June 30) we will visit Museum M in Leuven, which has a number of major paintings of the Flemish Primitives on display.
COSTS: (link expired)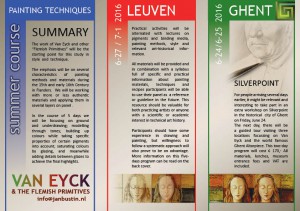 MATERIALS AND TOOLS: During the summer course we will work with materials that are as authentic as possible, such as pigments and binding media for grinding our own paint which were also known and available in Flanders during the 15th and early 16th century.  We will paint on a wooden panel that has already been prepared with several layers of hide glue and chalk ground.  During the course, all of these materials will be provided and are included in the cost.  Specific tools like silverpoint and brushes will also be available and a number of them can be taken home afterwards.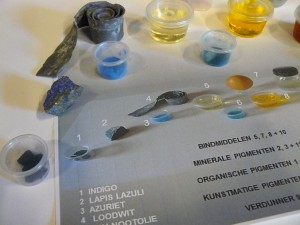 Nevertheless, participants from abroad should be aware that it might be problematic to take some of the tools and/or authentic liquids with you on the plane on your flight back home. Besides, there might be reasons to prefer the use of modern pigments and binding media rather than historic ones. Therefore, in addition to all the recipes and a step-by-step description of the painting process, the syllabus will contain a list of authentic materials along with an overview of modern materials to substitute for their historic counterparts.
There will also be information on a number of suppliers from Europe, the UK and the US where materials can be purchased afterwards.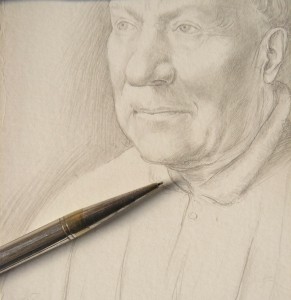 Van Eyck and his contemporaries also used the delicate drawing technique of SILVERPOINT for making sketches and preparation studies on prepared paper or parchment. For people arriving several days earlier, it might be relevant and interesting to take part in a special workshop on silverpoint drawing techniques in the historical  city of Ghent on Friday, June 24. The next day, there will be a guided tour of three locations in Ghent, focussing on Van Eyck and the world-famous Ghent Altarpiece. This two-day program will cost €160. All materials, lunches, museum entrance fees and VAT are included. It is also possible to participate at only one single day. So at the workshop or at the guided tour. Each separate day costs €85,–
For more info please contact Jan Bustin:  info@janbustin.nl
TEACHER: Your teacher during the summer course will be JAN BUSTIN. He will also teach the workshop on silverpoint and act as a guide in Ghent. For more information on Jan Bustin and to get an impression of his research on historical painting techniques go to this GALLERY showing examples of reconstructions and copies. 
After the summer course those who want to explore even more of the cultural treasures which Flanders has to offer, can book 2 guided tours to Antwerp and Bruges. These are organized and guided by DIANA GOODWIN. For more information  about the GUIDED TOURS  TO ANTWERP AND BRUGES  please contact Diana Goodwin on her website 'Based in Belgium' 
For a printfriendly version of the REGISTRATION FORM – 2016 VAN EYCK SUMMER COURSE /WORKSHOP + GUIDED TOUR GHENT  please read more here. (link expired)
For a printfriendly version of the TERMS AND CONDITIONS 2016 VAN EYCK SUMMER COURSE & WORKSHOP +GUIDED TOUR IN GHENT:  please read more here (link expired)

HOW TO REGISTER: Please fill out the registration form, sign it and send it to :
Jan Bustin
Van Veldekelaan 2a
6165 EH, Geleen (Netherlands)
You can also scan the completed and signed form. Then send it as an attachment in an e-mail to info@janbustin.nl Your scanned and e-mailed registration form will hold you a place in the workshop. However, you must send the signed original by post to the aforementioned address to complete your registration. You will also get an answer by email in which you are asked to make an intitial deposit of € 150,– to:
To JJMM Bustin en/of HJL Bustin-Evers
IBAN: NL10INGB0748423419 (BIC: INGBNL2A)
Payment reference: INITIAL DEPOSIT 2016 VAN EYCK SUMMER COURSE and/or WORKSHOP+TOUR and your own NAME AND SURNAME
ATTENTION! The total amount of all options you choose must be paid by bank transfer before April 25, 2016 (15-4-2016) to the aforementioned account holder. (*)
Payment ref: PAYMENT 2016 VAN EYCK SUMMER COURSE and your own NAME AND SURNAME
(*) Early Bird bookings (reservation and deposit) made before April 20, 2016, may substract €25 from the price of the summercourse.
contact JAN BUSTIN .