SILVERPOINT IN GHENT.
Recently  I visited the city of Ghent (BE), renown for its world famous altarpiece by Van Eyck in St Baafs cathedral. Indirectly the Ghent altarpiece was the reason why I went there. Because contacts had to be made for the organisation of a range of activities as part of a whole program on historical drawing and painting techniques from the 15th and early 16th Century in Flanders.
One of the techniques that we will focus on during part of the program is silverpoint drawing. As a historical drawing technique it held a respectable position within the range of skills that a trained artist was to master. However, relatively little is known about that nowadays, even amongst art lovers. And as the (positive) reactions  to  the silverpoint exhibition(s) in London last Fall demonstrated, even less is known about the artistic possibilities for a more contemporary use of the medium.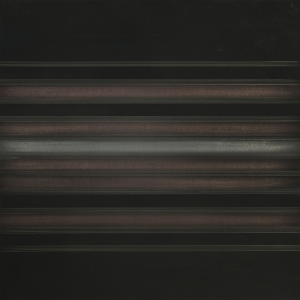 Vibrations – Susan Schwalb – 2013 – metalpoint on black gesso
For this reason I paid a visit to Galerie Ganache. This is actualy a contemporary art gallery right next to St Baafs cathedral in a historical building, renovated and run by a trained architect who apparantly also found a mission in serving it's visitors a good cup of coffee or tea together with a selected range of 'haute patisserie and chocolaterie'. Discussing plans we decided that it might be an idea to organise a lecture on silverpoint for  a broader audience on Sunday Mai 29 in the afternoon. This lecture with slides will be in Dutch. The venue will be at  Galerie Ganache, Limburgstraat 14, 9000 Gent  (BE)   and will be combined  with a delicious afternoon tea. The admission is Euros 19,– Due to the restricted number of seats you need to make a reservation by contacting Galerie Ganache  info@galerieganache.be or call 0032 (0)499/97.61.48.
For other information please feel free to contact info@janbustin.nl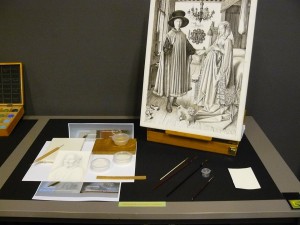 WORKSHOP ON SILVERPOINT &  GUIDED TOUR OF GHENT  
Yet for an audience , which is also interested in crafts and workshop practices about a month later there will also be a special opportunity to learn more about historical drawing and painting techniques by your own experience. The 2 days programm consists amongst others of a practical workshop on silverpoint in Ghent on Friday June 24 2016. The next day there will be a guided tour of Ghent during which we will visit three Van Eyck related locations in the city. Each day can be booked seperately. Please contact Jan Bustin for more info at   info@janbustin.nl 
SUMMERCOURSE IN LEUVEN  
Then from Monday June 26 until Friday July 1 there will be a practical summercourse on painting techniques from the Northern Renaissance. This is scheduled in the historical city of Leuven (BE), which is not far from Ghent. And furthermore there will be two guided tours of Antwerp and Bruges. The main language throughout this whole  program will be English.
It is possible to choose several options to participate. They can vary from following the whole programm to parts of the program that may be booked separately . Students as well as early bird bookings can profit a reduction.  Read more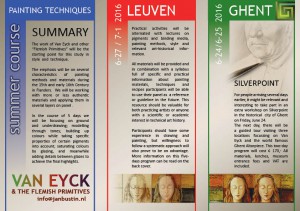 P.S. After a well spent day of talking and seeing lots of amazing pieces of art, during the journey from Ghent back home by train I thought it was time for some relaxed concentration. So I decided to do this very small drawing from life in silverpoint on paper that had been prepared with a greenish ground. Pretty classical I admit, but I guess the shaking of the train caused by the railway track might have added a contemporary haze of 'Rock'n roll' and vibration to it nevertheless…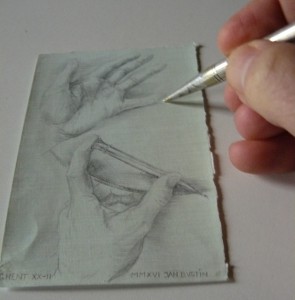 contact JAN BUSTIN .