RECONSTRUCTING RUBENS IN OSLO
Last spring I got an invitation from the Institute of Archaeology, Conservation and History (IAKH) of the University of Oslo (UIO) in which I was asked if I would be interested to come to Oslo as a guest lecturer and to assist in a seminar on Conservation Documentation and Practices in Historical Painting Techniques. This course, called KONS4011 was meant for students for their master degree in Conservation Studies.
Of course I felt honoured to be invited by Associate Professor Noëlle L.W. Streeton but having heard her lecturing on a conference two years ago and also having read her book: 'Perspectives on the Painting Technique of Jan van Eyck: Beyond the Ghent Altarpiece' I knew it would be a challenge to fit the standard.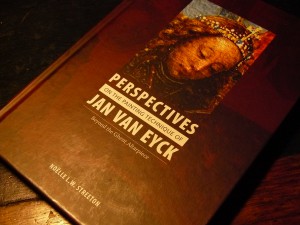 But as a painter myself and also teaching visual arts and art history I am keen to share my own experience on historical painting methods with others. Besides I do believe that several people originaly working in different fields, having different backgrounds -but at the same time with a mutual interest in the same subject- can learn a lot from each other. And so at the end of November off I went to Oslo.
Although being rather practical and sometimes experimenting along by intuition, at the same time I do recognise the importance and even highly appreciate a more theoretical, scientific and academic approach towards painting. So doing practical research on this subject some years ago I started working on a system for tests on materials and making reconstructions of painting methods from the 15th and early 16th century.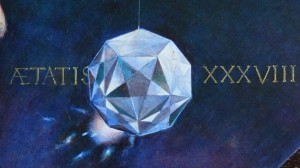 At first out of curiosity and by asking the following question: How did these painters succeed in achieving effects that are there to be seen by everyone who wants to see them but apparently are not that easy to be explained or understood?
The next step was based on trial and error. But soon after getting started other, more specific questions occured. For example: How much does a particular stylistic effect relate to the use of certain materials that were known and available in those days? Or: Does the outcome of different kinds of published scientific research match with what might be possible to achieve in practice?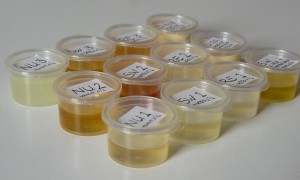 But also the other way around: Does what can be achieved in a certain painting technique match with what one would expect to have been 'normal' workshop-practice in those days? And if yes, does this subsequently match with what investigation methods and scientific proof, found by others have brought to light?
What I find to be important is a way to recall the different steps while doing experiments and to register all those testing samples. Because without that I guess it would be impossible to draw conclusions from various effects occuring. It is very helpfull that from time to time I am to teach on the matter and for this purpose educational material has to be developed. This can also serve as a visual documentation.  So along with a Powerpoint presentation I brought several testing panels, reconstructions, tools and materials for demonstration to course KONS4011.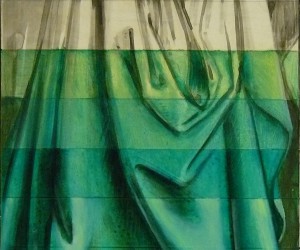 For my contribution I was asked to give a number of short lectures, alternated with practical demonstrations. In these I emphasized on underdrawing and building up colours in layers. Then under supervision of Noëlle Streeton the students themselves were to produce a reconstruction based on a detail of an anonymous copy  after Rubens'  "Queen Tomyris with the head of Cyrus" On this they would be working for 4 more days to come. As I had planned to stay longer in Oslo I was glad to be given the opportunity to see how they proceeded and being able to assist from time to time on a more practical level.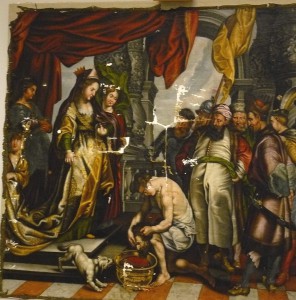 Looking at Rubens' 'bravoura-style' in general one might think it to be completely different to how a 15th or even 16th century painter would build up his painted surface  in layers. But actualy this course was not about reconstructing Rubens' own technique but about investigating and studying the working methods of this particular unknown copyist.
Compared to the great master himself this person seemed to be a minor virtuoso painter for whom building up a painting from an overall tonal 'deadpaint' might have been a step too far. Instead there were parts in which local colours might have been build up separated from each other by giving them each their own grisaille-like but slightly different underpaint.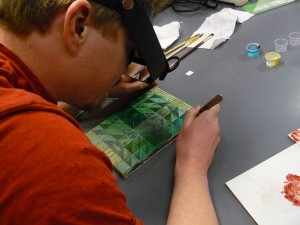 What I found surprising was the state in which the green parts still were. If these were painted by using verdigris, then this painter apparently knew how to deal with this tricky pigment.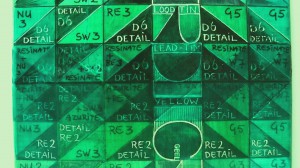 Noëlle L.W. Streeton 'Perspectives on the Painting Technique of Jan van Eyck: Beyond the Ghent Altarpiece' ISBN-13: 978-1904982708  ISBN-10: 1904982700