UPDATED GALLERY 2017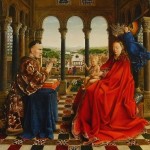 The Picture Gallery contains copies, reconstructions and original paintings made by Jan Bustin.
Jan Bustin
(1961) has a BA in fine arts& design and a BA in art history & art-education. Since 1988 he has been teaching art & design and giving lectures on art history. Among others for the Davidsfonds en Stichting Kunst en Musea , both in Flanders (BE) and as a guest-lecturer at the Radboud University (NL) Oslo University (NOR) and University of Amsterdam (NL, upcoming) 
 Link
From a professional as well as from a personal background he has a keen interest in Van Eyck and other Northern Renaissance artists. As a result he has been doing experiments and practical research on mainly 15th, 16th and 17th Century drawing and painting techniques.  Among others by linking his own painting skills and findings to the outcome of technical research executed and published by others. Sharing knowledge and hands-on experience on the topic with other organisations, professionals and individuals with a similar focus is one of the aims of this gallery.
De Picture-Gallery bevat foto's van kopieën, reconstructies en originele werken, geschilderd door Jan Bustin.
Jan Bustin
(1961) is sinds 1988 actief als hoogste graads docent tekenen/schilderen en kunstgeschiedenis. Hij doet al vanaf zijn jeugd proefondervindelijk onderzoek naar de schildertechniek van de Vlaamse Primitieven. De laatste jaren o.m. ondersteund door  de uitkomsten van instrumenteel wetenschappelijk onderzoek  en het uitwisselen van kennis met organisaties en personen, die zich ook met deze materie bezig houden.