Guided Art-Historical Tour of Antwerp
Spend a day getting to know the fashion and design capital of Belgium. The historic port city of Antwerp is also the city of Peter Paul Rubens and boasts a rich artistic heritage.
We'll meet in Antwerp's Central Station, routinely listed as one of the most beautiful train stations in the world. From there, we'll walk into the historic city center, entering via the majestic Keyserlei. We'll pass by the Rubens House, a reconstruction of the artist's own residence, and continue to the nearby Mayer van den Bergh Museum.
Fritz Mayer van den Bergh was a 19th-century collector with a special interest in late medieval and Renaissance art of the low countries. For fans of Flemish panel painting, this museum is a treasure trove. The most famous piece in the collection is "Dulle Griet," by Pieter Brueghel the Elder.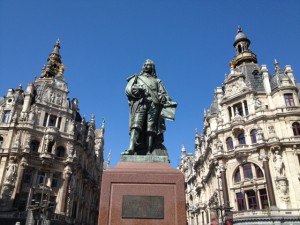 After the museum, we'll go to a fun local brasserie specializing in Flemish food and Belgian beer. From there, we'll continue to the cathedral, where we'll see masterpieces by Quentin Metsys, Rubens and other Flemish masters.
We'll end our day of art and culture at the Rockoxhuis Museum, another house museum built around one man's private collection. Nicholas Rockox was alderman and mayor of Antwerp, as well as a patron and friend of Rubens. His collection contains works by Rubens and many other Flemish masters, such as Anthony Van Dyck, Frans Snyders, and Jacob Jordaens.
Date: Saturday, July 2
Time: 10:00-18:00 (8 hours)
Cost: €75 per person
The price includes admission to the cathedral and two museums. Lunch and train fare are not included.
Guided Art-Historical Tour of Bruges
Bruges has become a popular tourist destination because of its well-preserved historic city center, picturesque canals and romantic atmosphere. However, less well known is its importance as an artistic center in the late middle ages.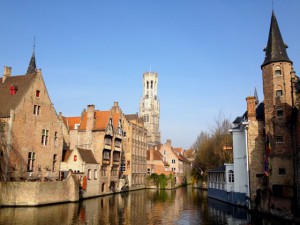 Get to know the Bruges of Van Eyck and Hans Memling, two of the greatest painters to have worked in Flanders in the 15th century. We'll start our tour in the Memling Museum, housed in a historic hospital complex dating back to the 12th century. The museum contains several masterpieces by Memling as well as other late-medieval works.
Afterwards, we'll stop by the Church of Our Lady to see Michelangelo's exquisite Madonna and Child—the only work by the master to leave Italy in his lifetime—brought to Bruges by a wealthy local merchant. Then we'll have lunch at the city's last remaining craft brewery, where you can sample the wares.
From there we'll head to the Groeningen Museum, which has one of the best collections of 15th-century Flemish panel paintings in the world. Highlights of the collection include Jan Van Eyck's "Virgin and Child with Canon Van der Paele" and Hans Memling's Moreel Triptych. The tour will end with an exploration of the medieval city center.
Date: Sunday, July 3
Time: 10:00-18:00
Cost: €75 per person
Price includes admission to two museums and the Church of Our Lady. Lunch and train fare are not included.
SPECIAL: Book both tours for €140 (instead of €150)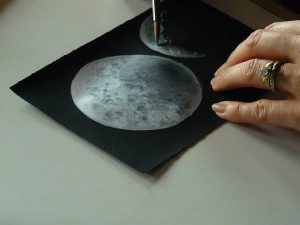 About your guide:
Diana Goodwin studied medieval history at Yale University and earned a Master's in Art History at the University of Michigan. Her area of expertise is late-medieval art, especially illuminated manuscripts. She has worked at several museums as a curatorial assistant, including the J. Paul Getty Museum in Los Angeles and the Cleveland Museum of Art. She works as a private guide in Belgium specializing in small groups and tours with a focus on art and culture. She is also a former student of Jan Bustin's with an interest in technical art history and art conservation.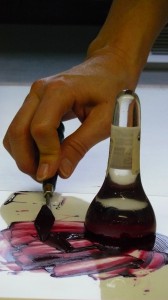 EACH TOUR WILL ONLY TAKE PLACE IF AT LEAST 6 PEOPLE REGISTER.
For smaller groups or OTHER CITIES TO VISIT , please contact Diana to make private arrangements at her website: BASED IN BELGIUM